1. KIWAMI1 Series.
PRODUCT
2. KIWAMI4 Series.
Inheriting the features of WIDER4
For easier use and design than ever before.
With the full model change of W-400 / LPH-400 for the first time in 23 years, "kiwami4" has been newly added to the "kiwami" brand of spray guns for automobile repair. Taking over the features of the remodeled WIDER4, the functionality and design have been redesigned to make it easier to use and more sophisticated than ever.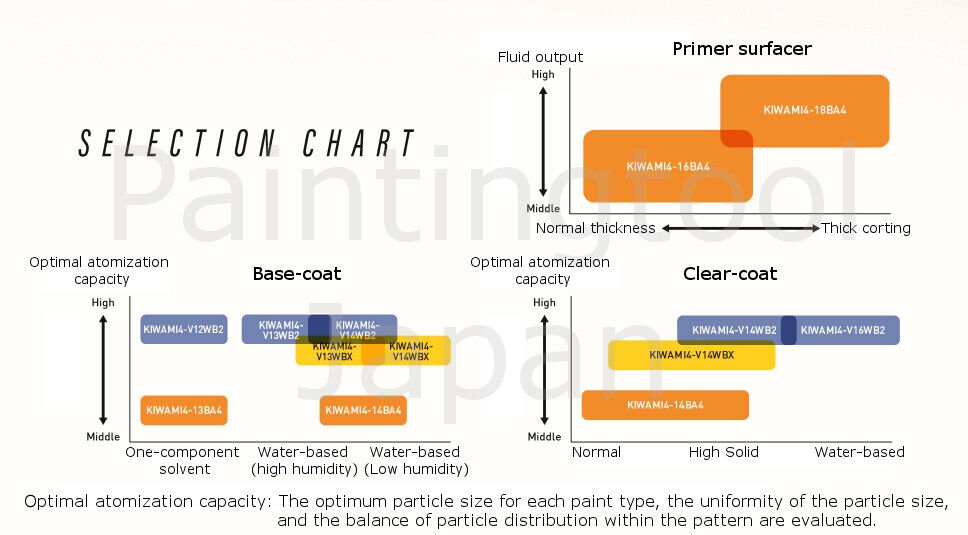 'Kiwami4 BA
With a large lineup of nozzle sizes, it is compatible with base paints, clears, and plastics regardless of solvent / water.
Although it is a large gun, the BA4 cap realizes high atomization with a small amount of air and improves the painting environment.
'Kiwami4 WB
With the smallest discharge amount in the series, it has excellent atomization characteristics * due to our original V slit nozzle and WB2 cap. Since it enables a thin film flat pattern, it improves the unevenness of high-difficulty paint color regardless of solvent / water, and reduces dripping and accumulation during clear painting.
* Agglomeration characteristics: An evaluation of the optimum particle size for each paint type, the uniformity of the particle size, and the balance of the distribution of particles in the pattern.